The evening program includes dinner, a silent auction, an aerospace art exhibit, the Fullerton & Knight scholarships, Eagle recognition, and a panel discussion by our first flight test pilots and engineers.
Get ready to soar through history with our distinguished panelists, including legendary test pilots and aviation experts. They'll share heart-pounding stories and insights about the exhilarating world of first flights in new aircraft.
17:00 Take Off – 22:00 Landing
John P. Eliopulos Hellenic Center, 43404 30th St W, Lancaster, CA 93536
BUSINESS ATTIRE. Proceeds go to support the Flight Test Historical Foundation's, a 501(c)3 non-profit organization, mission to support the Flight Test Museum and are tax-deductible less the $35 cost for the dinner.
Panel Discussion Participants:
Jeff Knowles, F-35C
Tom Morgenfeld, X-35
Doug Shane, ARES (among others)
Pete Siebold, White Knight II
Evan Thomas, Stratolaunch ROC
Jennifer Uchida, eCaravan
Master of Ceremonies, Bill "Evil" Gray
Limited seats available! Reserve your spot now for an unforgettable night of aviation history and inspiration.
Don't miss this unique opportunity to celebrate the pioneers of flight and support our museum's mission to preserve the rich legacy of aviation. Get your boarding pass to history today! We look forward to welcoming you aboard this extraordinary journey through the skies.
Introducing our 2023 Eagles: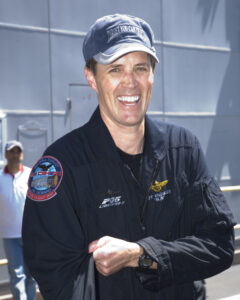 Jeff "Slim" Knowles
Lockheed Skunkworks, Chief Test Pilot, Manned Aircraft (Ret.)
First Flight
F-35C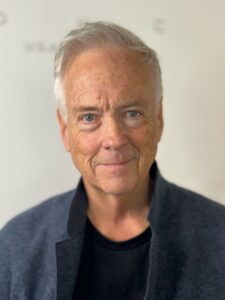 Doug Shane
Anduril Industries, Director of Aircraft Development
First Flights of 8 Scaled Composites Experimental Aircraft including ARES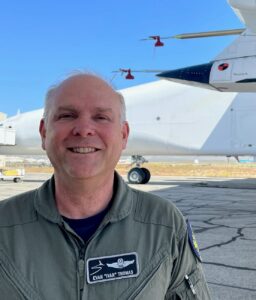 Evan "Ivan" Thomas
Stratolaunch LLC, Director of Flight Operations
First Flight Stratolaunch ROC
Pete Siebold
Scaled Composites, Vice President of Flight Operations
First Flight White Knight II
The aerospace art exhibit will feature original paintings and fine art prints for sale. Award-winning artists Douglas Castleman and Mark Pestana are official USAF artists with many of their paintings in the Pentagon and NASA Art Collections. The artists donate half of the sales proceeds to help fund the new Flight Test Museum.
Mr. Castleman and Mr. Pestana donate 1/2 of the proceeds from their sales at the Gathering of Eagles to the Flight Test Historical Foundation. They both are available for commissioned art as well. Their contact information is as follows:
Thank you to all of our 2023 GOE Sponsors!

About the Gathering of Eagles
The Gathering of Eagles is a yearly celebration of the Flight Test Historical Foundation to acknowledge significant achievements in the flight testing of aerospace vehicles.  The celebration honors both significant events and individuals that have made these events possible. The Gathering of Eagles is meant to provide an avenue for camaraderie, and education, and as a way to memorialize and honor the people who contributed to the historic advancements in aerospace development by these programs. The event is also a fundraiser, providing resources to the Air Force Flight Test Museum at Edwards Air Force Base, University scholarships, and a variety of STEM education programs.
Since 1983, the Flight Test Historical Foundation has been honoring luminaries in the aerospace world at events and award dinners. In 1996, the FTHF awarded the first Eagle Awards to Chuck Yeager, Bob Hoover, Bob Cardenas, De Beeler, and crew chief Jack Russell on the 50th Anniversary of the Bell X-1 breaking the sound barrier. In 1999, Pete Knight, Scott Crossfield, Joe Engle, Bill Dana, Fitz Fulton were honored with Eagles at the event celebrating the 40th Anniversary of the X-15 test program. Every year thereafter, the Foundation has awarded members of teams engaged in significant milestones in flight test and aerospace advancement conducted in the Aerospace Valley.
The Flight Test Historical Foundation continues to celebrate of first flights!
First Flight wall at the Air Force Flight Test Museum. More first flights than anywhere else on the planet…  Photo Credit @JimKrantz