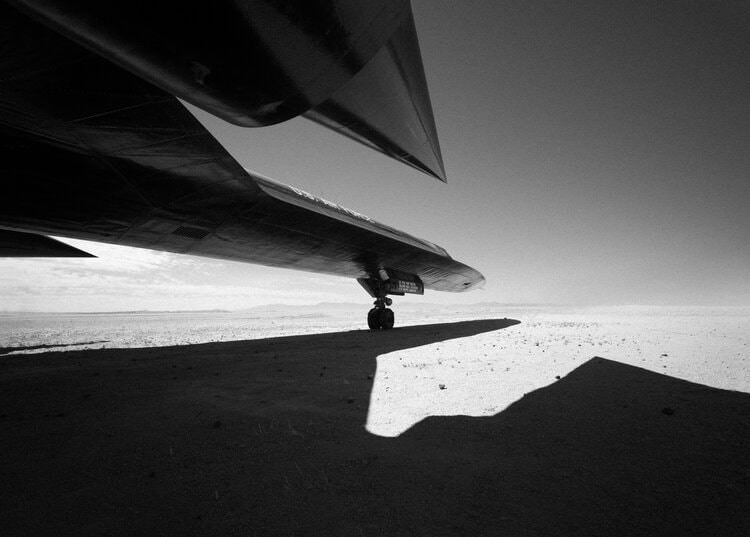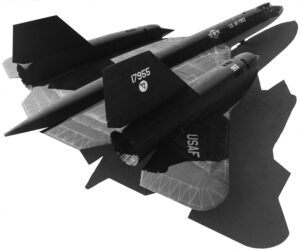 INTEL
NAME: LOCKHEED SR-71A – S/N 61-7955
NICKNAME: BLACKBIRD
ACTIVE DUTY: 1964-1988
The SR-71 was the USAF's two-seat version of the CIA's A-12 reconnaissance aircraft. capable of the same high speed and altitudes as the A-12, it was slightly heavier due to the increased camera/radar sensor payload, which is housed in the interchangeable nose and fuselage bays. the aircraft had an empty weight of 30 tons and carried 40 tons of fuel when full.
The aircraft on display at the main museum is the 6th prototype, S/N 61-7955. assembly started on 13 May 1964 and #955 first flew on 17 August 1965. throughout its career, this aircraft served as the premier Palmdale test aircraft by Lockheed and the Air Force, to test new systems and configurations for the rest of the Blackbird Fleet. It carried Lockheed's famous "Skunk Works" logo on its tail. By the time 955 was retired, the airframe had been modified so many times that it was no longer considered representative of the SR-71 fleet. Last flown on 24 January 1985, #955 accumulated 1993.7 hours of flight time.
SUPPORT
And the Test Pilots who flew it…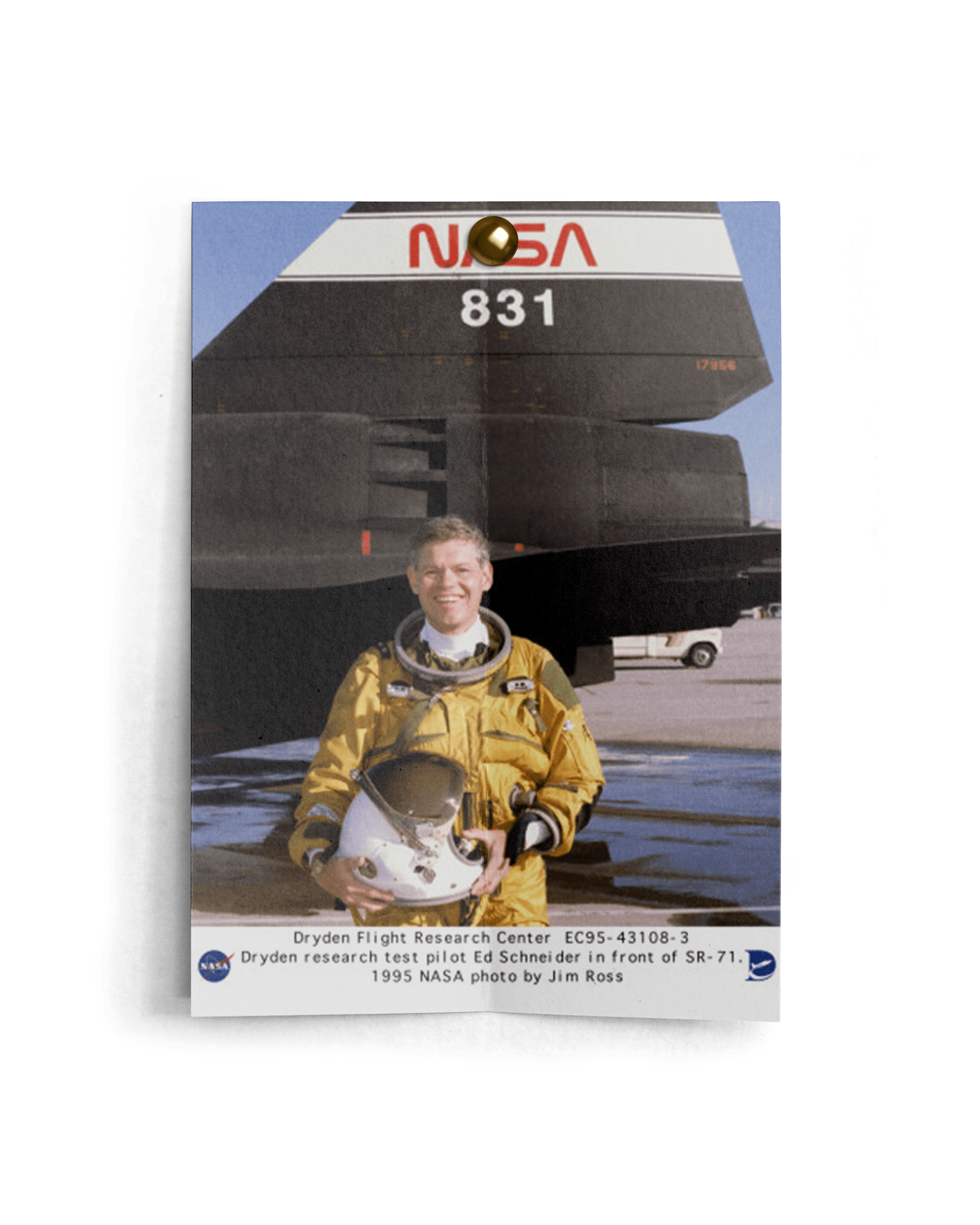 ED "FAST EDDY" SCHNEIDER
Ed "Fast Eddy" Schneider completed Navy Flight Training in 1969, and graduated from the US Naval Test Pilot School in 1973. He served an engineering test pilot at the Naval Air Test Center on the AH-1, H-3, H-53 and A-4 test programs. And he then served as flight Instructor at USNTPS. Ed also served as a test pilot at the Naval Air Rework Facility in San Diego, and there he tested the F-4, E-2, C-2 and H-46.
Ed joined NASA in 1982 as a research test pilot at Dryden Flight Research Center, Edwards, CA. He did flight testing on the F-104, F-14, F-15, F-18 High Alpha Research Vehicle, B-52 and the SR-71, which he flew from 1994 to 1999. In 2000 Ed transferred to Johnson Space Center where he did flight testing on the WB-57F, and served as a T-38 instructor pilot. Ed has flown over 7800 flight hours in 80 models of aircraft. He is a Fellow of the Society of Experimental Test Pilots, and was the Society's President in 1993/94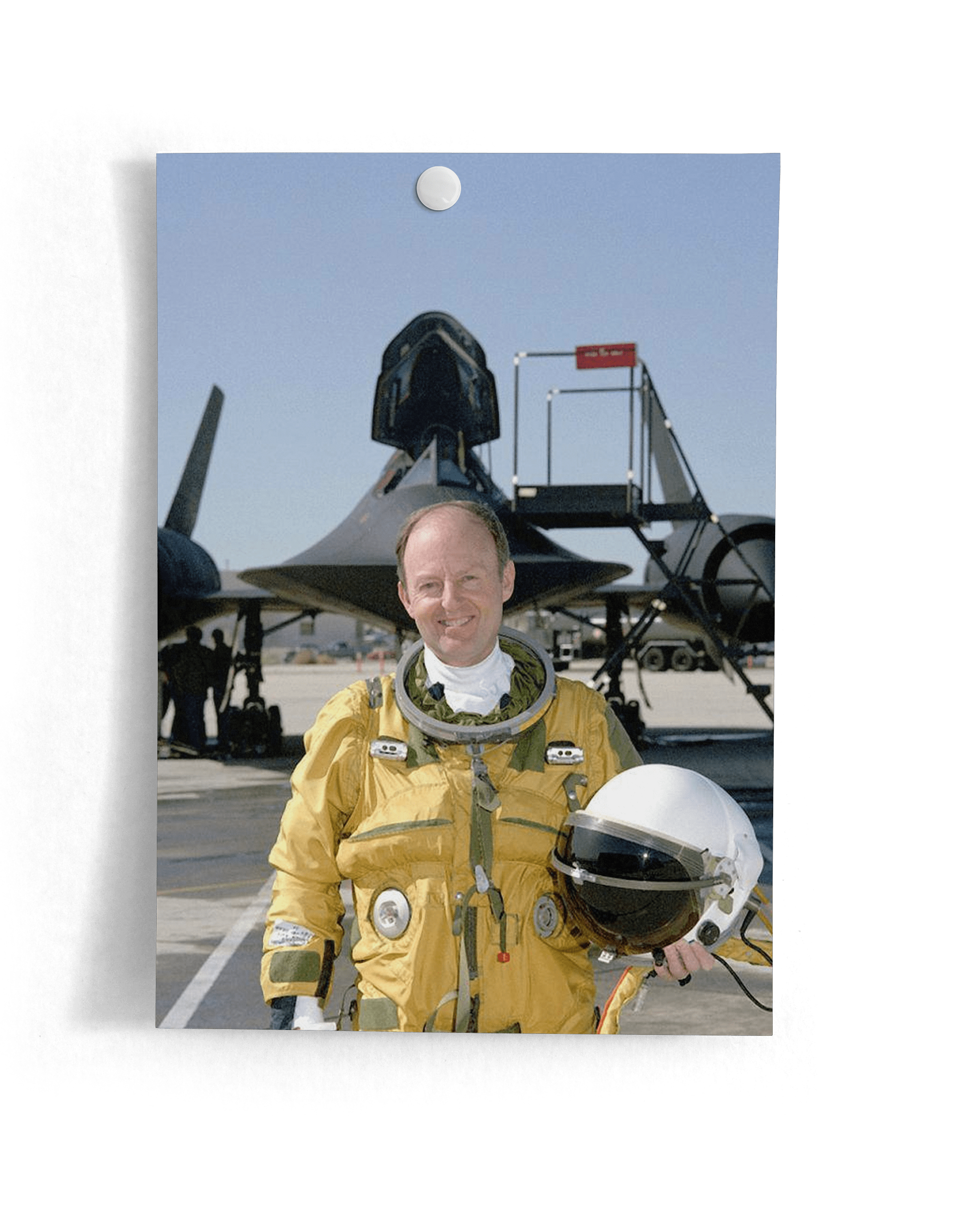 ROGERS SMITH
Smith began his service in 1955 as a Royal Canadian AF fighter pilot. He has flown for the U.S. Air National Guard, NASA Langly, CalSpan, and NASA Dryden (now Armstrong). From 1993 to 2000, he served as the acting director of Flight Operations at Dryden managing the Avionics, Operations Engineering, Flight Crew, Quality Inspection, Aircraft Maintenance and Modification, and the Shuttle and Flight Operations Support Branches. He was a project pilot on the SR-71, X-31 Enhanced Fighter Maneuverability Demonstrator project, and the F-104 aeronautical research aircraft. Smith has also been a project pilot on the X-29 Forward Swept Wing, the Advanced Fighter Technology Integration F-16 (AFTI F-16), and the AFTI F-111 Mission Adaptive Wing research projects. Smith was a co-project pilot on the F-15B aeronautical experiment testbed aircraft at Dryden. Among other airplanes, he also flew the F-18 and NASA's DC-8 airborne science platform.
MARK "FORGER" STUCKY
Mark P. "Forger" Stucky is a test pilot and commercial astronaut. Forger retired from the U.S. Air Force in 2009 but began his military career as a Marine Corps fighter pilot and is a graduate of the Navy Topgun, Marine WTI, and the USAF Test Pilot Schools. He has over three decades of flight test experience with the Marine Corps, Navy, Air Force, NASA, and international partners. Stucky joined Virgin Galactic in 2015 continuing the advancement of the commercial space flight program, and in 2018, the FAA awarded him commercial astronaut wings for piloting the VSS Unity to 51.4 miles above the Earth's surface. He has logged over 9,000 flight hours in over 190 different models of aircraft ranging from the light and slow (blimps and paragliders), to the heavy (C-5M Super Galaxy), to the high and fast (SR-71 Blackbird). His other flight test highlights include night vision technologies, weapons testing, ejection seat tests, F-16XL supersonic laminar flow, F-18 high angle of attack thrust vectoring, novel space launch and satellite recovery concepts, and combat flight testing.