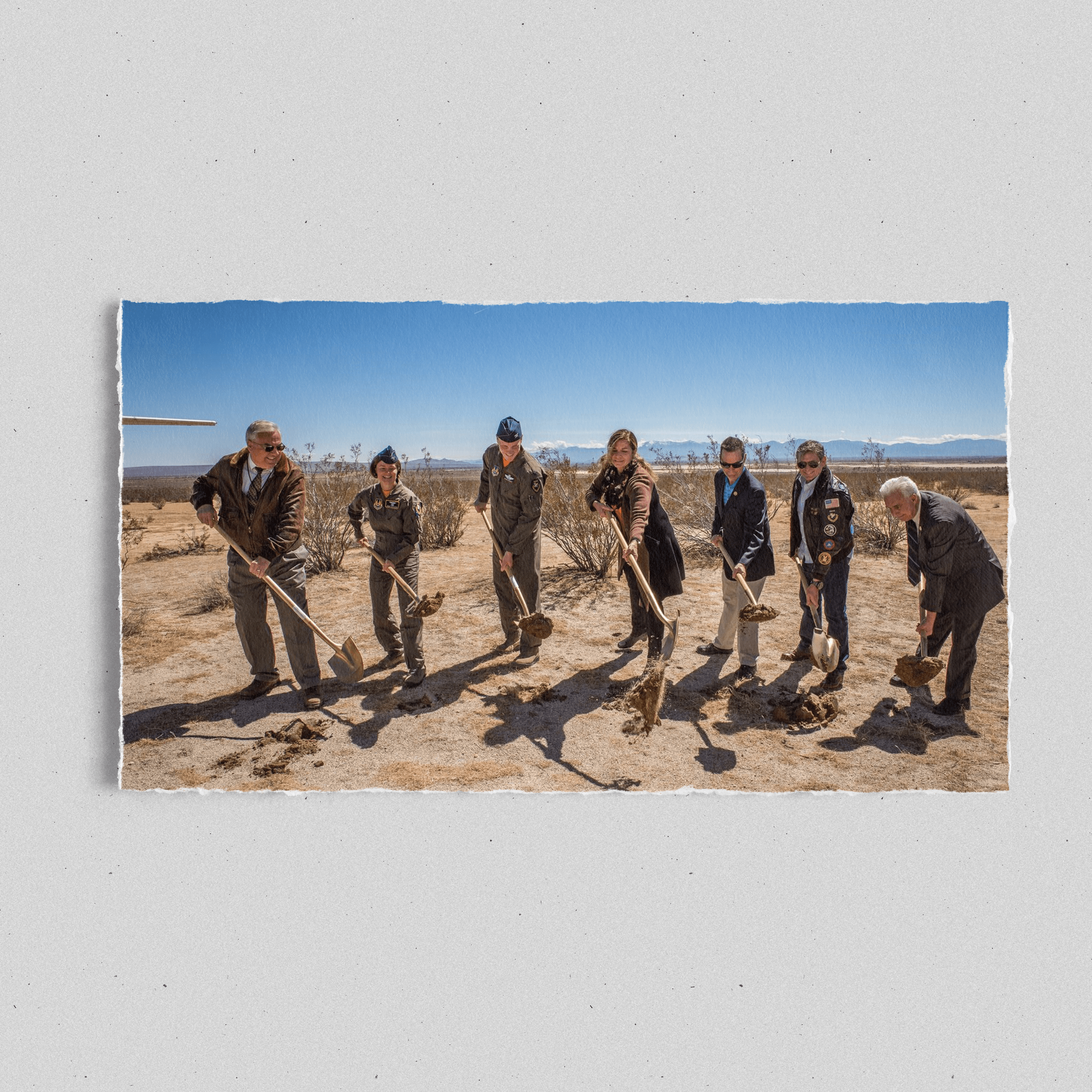 It's official. Ground broken.
More than 250 people joined us to kick off Phase 1 for construction of the new museum; helping us take the next step toward making flight test history more accessible to visitors from around the world.
Currently, gaining access to the Air Force Flight Test Museum sometimes means signing up several months in advance for a tour.
Future phases will also feature a STEM (science, technology, engineering and mathematics) education center.
Flight Test Historical Foundation chairwoman, Lisa Gray, hosted the event and spoke about the importance of "telling the story" of flight test in order to inspire generations to come.
"It is our mission to preserve the rich local history of flight test through the support of the museum at Edwards AFB," said Gray.
Also in attendance was U.S. Congressman Steve Knight who spoke about the impact the new museum and the test programs at Edwards will have on future, potential "test pilots."
"When young people walk in, whether they watch an air show or they watch that F-22 fly tomorrow or they walk in [to the museum] to see what Joe Kittinger did… there are two things going through their head…'holy cow that was a crazy thing to do, but the second thing is man, I want to do that.'"
According to George Welsh, the museum's curator, it should take approximately two years before the first building is ready for the public. After that, the foundation will continue its fundraising efforts in order to move on to two other phases that will include a 10,000 square foot adjacent building to house a new gift shop and a permanent, expanded STEM Education Center. The structure will also include a meeting room, a break room for staff and volunteers, an aviation research library and an exhibit preparation area.
The foundation's fundraising efforts focus primarily on the construction of a new museum that will be accessible to the general public, aircraft acquisition and restoration and STEM scholarships.
Don't worry about sounding professional. Sound like you. There are over 1.5 billion websites out there, but your story is what's going to separate this one from the rest. If you read the words back and don't hear your own voice in your head, that's a good sign you still have more work to do.
Be clear, be confident and don't overthink it. The beauty of your story is that it's going to continue to evolve and your site can evolve with it. Your goal should be to make it feel right for right now. Later will take care of itself. It always does.