by Aerotech News & Review •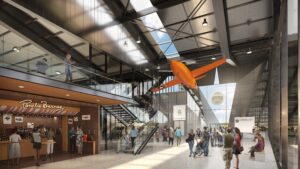 FLIGHT TEST MUSEUM FOUNDATION (FTMF) IS SOARING TO NEW HEIGHTS!
FTMF redesigns its logo, creates a new website, and is building a new museum
In the early Spring of 2021, the Flight Test Museum Foundation at Edwards Air Force Base, Calif., began a comprehensive rebranding campaign, which included a new website design.
The new website rolled out during a soft launch on Jan. 20, 2022. The primary goal is to help generate awareness of the vast educational resources available for school districts in science, technology, engineering, and math.
The website has added many unseen photos and updated content. The design team also streamlined the content and improved the navigation of the site.
"We will provide more updates as we develop more components and build the back-end database to allow for easy navigation through historical, educational and informative content," said a museum spokesperson. "We are also building the website framework to allow our new corporate partners to create a more exciting user experience."
The foundation has several new strategic partnerships with many exciting professionals, companies, and organizations.
Award-winning photographer Jim Krantz, who serves on the advisory board as the new creative director, has been instrumental in bringing aboard global architecture and design firm Gensler. Gensler has teamed up with the foundation to develop a breathtaking conceptual design for the museum and assist in the Capital Campaign.
The foundation enlisted Gensler to develop capital campaign assets to help raise funds for the creation of a new museum and STEM Center. The multi-disciplinary team brought together experts from brand design, architecture, and museum design to create a vision for the future of the Flight Test Museum.
The reimagination of the museum coincides with the rise of commercial space exploration and the 75th anniversary of the breaking of the sound barrier in this air space. The area has seen milestones like testing America's first jet, the breaking of the sound barrier, rocket plane flights to the edge of space and the first glide flights of the space shuttle. The Antelope Valley remains a hub of developmental flight test to this day for all the same reasons. The skill and spirit of all those who participated in this incredible body of work shaped both the modern world and the American persona.
Much of this historic work is not known to the world outside the AV and much of what is known is surrounded by myth and legend because of the secret nature of the work.
"The new Flight Test Museum and STEM center will make that history accessible by literally bringing it outside the Edwards Gate," a Gensler spokesperson said.
A significant amount of space flight testing happens at the facility, with many outside experts coming to test new technologies.